Today we'll recommend five attractions for guaranteed fun with the whole family, especially if you're nature lovers. If you work in the city, it's natural to want to be close to nature during your time off. Our luxury property in Bangkok could give you the best of both worlds with easy access to the city and natural attractions. Our Bangna project is nestled in the center, allowing you to travel to work via car or BTS easily while still being able to visit nearby nature spots at weekends.
To help you decide if the Bangna neighborhood is right for your lifestyle, we'll highlight our favorite nearby attractions for nature lovers. Let's get started.
1. Bang Pu Recreation Center
The first place on our list is Bang Pu Recreation Center in Samut Prakan Province. It is not far, only about half an hour by car, and importantly, those who don't want to drive can travel by BTS Skytrain.
Bang Pu Recreation Center was built in 1937 by Field Marshal Plaek Phibunsongkhram while serving as Prime Minister. The aim was to create a resort that was not far from Bangkok. At the same time, a bridge was built extending out into the seashores. Later, it was named "Sukta Bridge," where you'll find restaurants and other facilities to serve visitors inside.
The highlight of Bang Pu Recreation Center is the seagulls. These birds flee from the cold winter in Mongolia, China, Tibet, and Siberia and stay from October to April every year. They return to build their nests and settle at the end of winter but return to Thailand every year. More than 5,000 seagulls migrate here each year. So, besides being a recreation center for people, you could also say it's a center for seagulls! There are also fertile mangrove forests for birds to shelter and forage.
In addition to watching the seagulls, there is also a nature path at Bangpu Nature Education Center by the Royal Thai Army, Samut Prakarn, to enjoy, which is located in the same area. Parents can take their children here to explore and study the nature of the mangrove forest in a fun and entertaining way.
This educational center has restored and conserved the mangrove forest area, previously a deserted shrimp farm. It has been transformed into a learning center for mangrove ecosystems near Bangkok. It has restored and added biodiversity with plants such as grey mangroves, Avicennia alba, sonneratia caseolaris, mangroves, and seablite. There are also benthic animals such as horseshoe crabs, mangrove crabs, fiddler crabs, hermit crabs, and sea anemones. You'll find various birds, such as waterfowl, seagulls, godwits, and storks. It guarantees to provide a fun learning experience for both children and adults.
How to Get There
Distance from The Forestias: 23.4 km.
Traveling by car: From Bangna-Trad Road, turn into Srinakarin Road, and enter Sukhumvit Road; Bang Pu Recreation Center is opposite Bang Pu Industrial Estate.
Traveling by BTS Skytrain: Get off at Kheha Station, take exit 3, then connect to minibus number 36; Bang Pu Recreation Center will be on the right.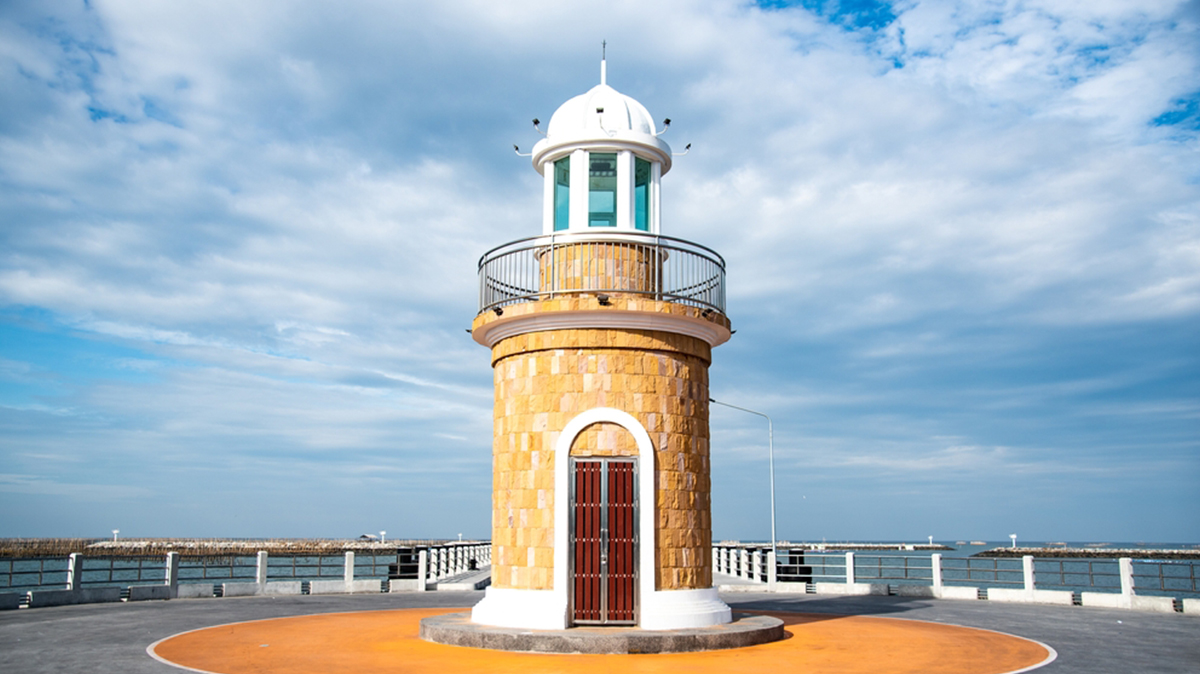 2.Ang Sila
For anyone who wants to take a deep breath of sea air and enjoy fresh seafood, there is a place not far from the Bang Na area that we would like to recommend: Ang Sila Subdistrict Mueang Chon Buri District, Chonburi Province.
When talking about the sea in Chonburi Province, many people think of Bangsaen Beach or Pattaya. But if you ask foodies or those who love to chill, the name Ang Sila is bound to pop up.
Ang Sila Fish Bridge: If you go to Ang Sila and don't visit this fish bridge, you can't say you've been to Ang Sila. The fish bridge is a must-visit location to buy fresh seafood to take back home.
The many fine stones found in the stone basin are made into quality stone mortars that are sold as a product unique to the district. During the reign of King Rama IV, this stone bridge was built extending out into the sea beyond the underwater stone area for the docking of fishing boats. This is where many fishing boats bring their fresh seafood for sale. New areas have also been renovated as tourist attractions where tourists take pictures and watch the sunrise and set. It's an all-in-one experience with fresh, delicious, and cheap seafood to enjoy and a picturesque view.
Although it is not a natural attraction, Naja Shrine is a beautiful attraction. It is a very famous shrine known by many as a beautiful holy Chinese shrine. It is believed to bring luck in trade, work, and success. So, many people come to pray for blessings every day.
Khao Sam Muk Viewpoint is another place to check out. Starting at the Sam Muk Resort hotel area, reaching the Chao Mae Sam Muk Chinese Shrine is just a short walk up the hill. There are viewpoints to enjoy the sea breeze and sit and take a break along the route. Importantly, there is a path for wheelchair users along the way. So, it is suitable for all family members to come and enjoy the relaxing views.
How to Get There
Distance from The Forestias: about 70 km
Traveling by car: Travel on the Burapha Withi Expressway and exit 4-08 down to Theparat Road. Drive until you meet Sukhumvit Road, then take the Chonlamak Withi Bridge route. Reach Phraya Satcha Road and turn right at the end of the road to reach the fish bridge. Or you can use the Sukhumvit Road route too.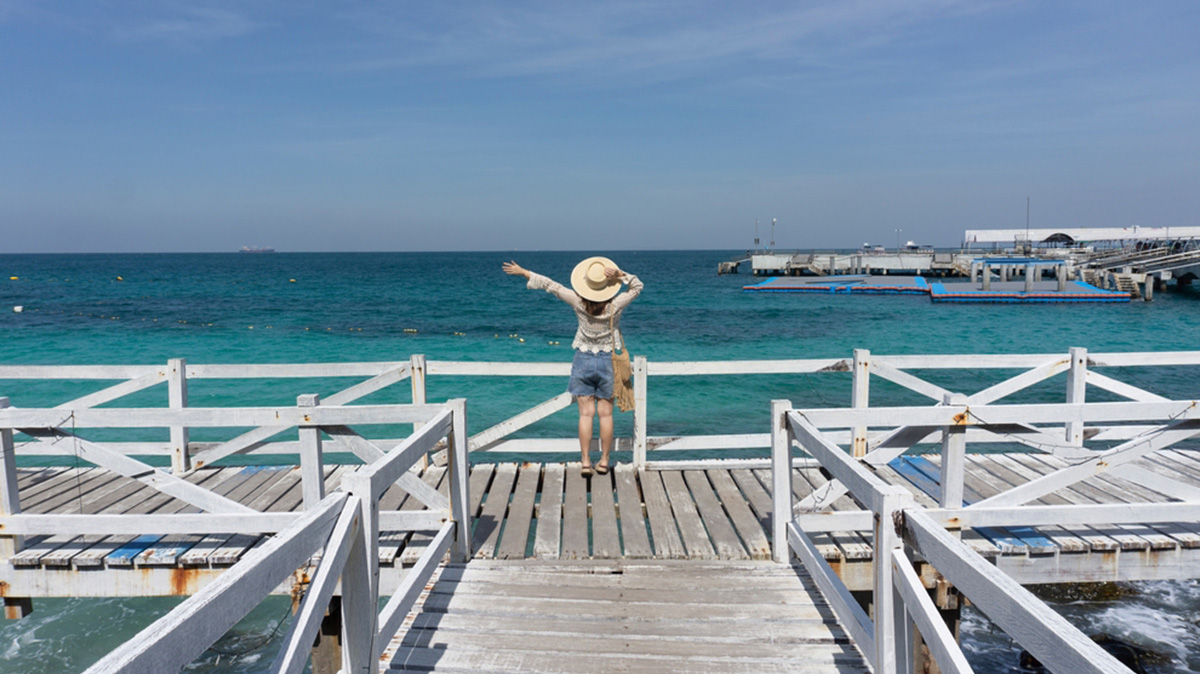 3. Ko Lan
Anyone visiting Ang Sila should consider traveling further to Ko Lan to enjoy the sea breeze and the clear water. And if you're not ready to leave at the end of the day, you can even stay overnight.
Ko Lan is a popular marine destination located in the Gulf of Thailand. It gives you a sense of being in the South because of the clear waters, white beaches, and fine sand suitable for walking on the beach, playing in the water, and taking beautiful photos.
Tawaen Beach: if your family prefers fun activities, this beach is a must as it's one of the most beautiful and bustling beaches in Ko Lan. The beach has restaurants, souvenirs shop, and many water activities.
Ta-Yai Beach is for those who like serenity, enjoying the breeze and listening to the sound of the waves. Despite being small, it is a great place to sit, relax, and enjoy a good book. Ta-Yai Beach is a must-visit.
Samae Beach is on the other side of the island and cannot be missed. Besides the beautiful beach, the large windmill and wooden bridge are also great photo opportunities.
Ko Lan also has many more tourist attractions and beaches we haven't mentioned that are equally beautiful. Take a trip and explore for yourself!
How to Get There
Distance from The Forestias: about 130 km (to Bali Hai Pier)
Traveling by car: Take the motorway from Bangkok-Map Ta Phut out to south Pattaya, head towards Bali Hai Pier, and find parking. Prices range from 140 to 300 baht per day. Then take the 45-minute passenger boat to reach Ko Lan.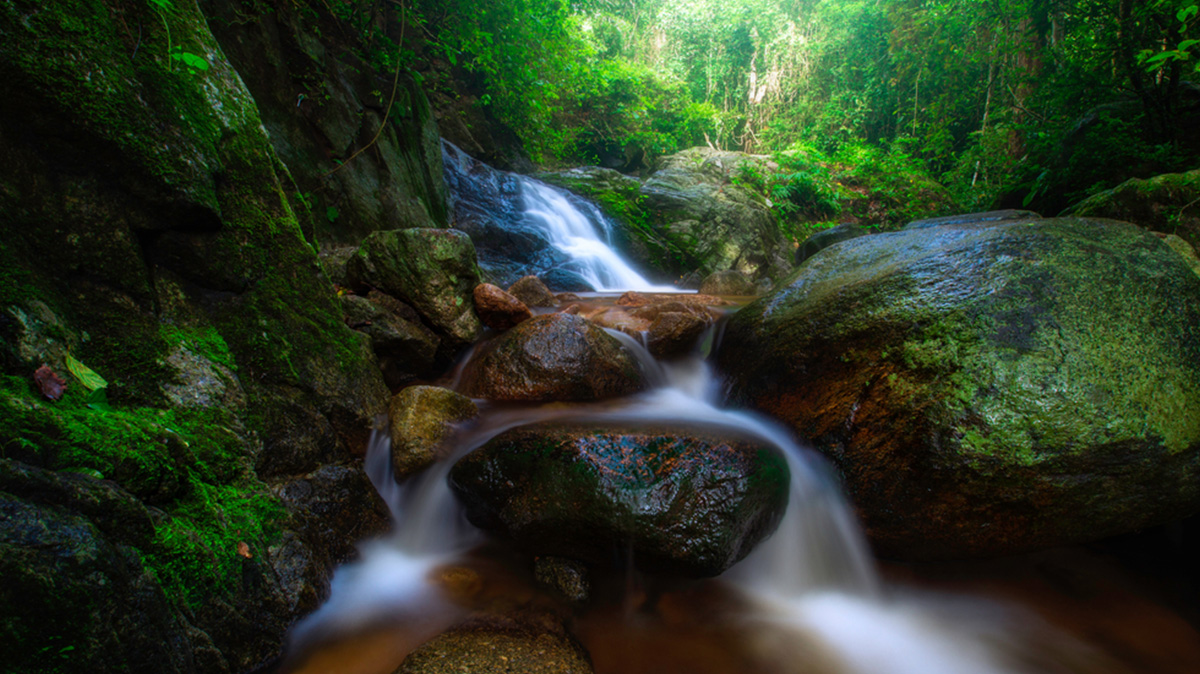 4. Chan Ta Then Waterfall
Now it's time to visit the forest, listen to birdsong, see the waterfall hitting the rocks, and dip your feet in the water at Chan Ta Then Waterfall, Bang Phra Subdistrict, Si Racha District, Chonburi Province.
Chan Ta Then Waterfall is a Khao Khiao-Khao Chom Phu Wildlife Sanctuary waterfall. There are five levels in total, but the most beautiful one is the 4th level. The peak season is from August to November when the water level is highest. Those who enjoy bird watching should visit from November to January to see the hornbills.
Chan Tha Then Waterfall is situated in a fertile forest with diverse biodiversity where you can relax amid nature and watch the sunlight flowing through the trees down to the stream that flows through the rocks. This place is great for those who want to breathe fresh air and cleanse their lungs from pollution without traveling too far. If you're a photography enthusiast, you're in the right place; whether it's nature, macro, or portrait photography, you can find an angle for every type of shot.
How to Get There
Distance from The Forestias: about 90 km
Traveling by car: Take the motorway from Bangkok - Map Ta Phut and exit at Road 3701. Turn left onto Ban Huai Kum Road until you reach the Khao Khiao-Khao Chom Phu Wildlife Sanctuary. Then, it's a 700-meter walk into the forest.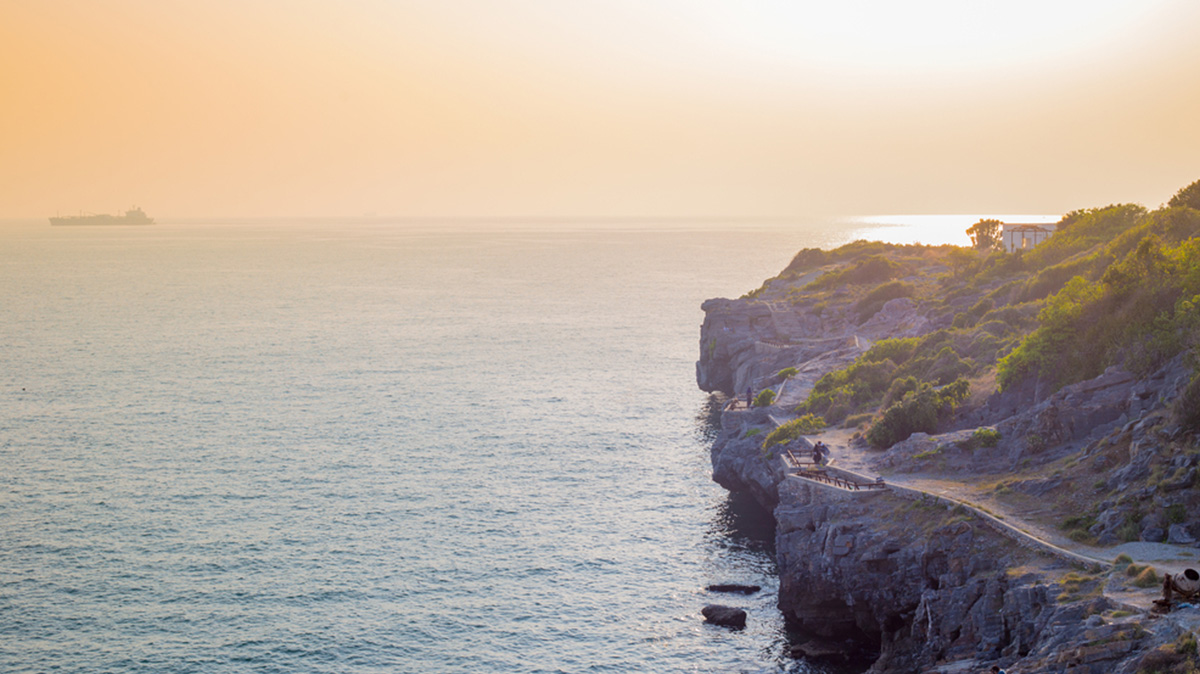 Alt text 5. A stunning clifftop view not far from Bangkok.
5. Ko Sichang
Ko Sichang is another tourist attraction near Bangna. It's less than a two-hour drive and then just a little further by boat; this tiny island has been a tourist destination for generations. So, where should you visit?
Khao Khad Viewpoint is a must-visit for any tourist to sit, admire the view and enjoy the sea breeze. It's worthwhile to stay overnight to see the sunset.
Atsadang Bridge is a white bridge jutting out into the sea, perfect for taking group family photos or a break from traveling.
Tham Phang Beach: since we're by the sea, it's only right to dip our toes in! Or, for those who prefer not to, there are fun canvas chairs to sit on and yummy seafood to sample!

How to Get There
Distance from The Forestias: about 100 km (to Ko Loi Pier)
Traveling by car: You can use the Burapha Withi Expressway, drive straight on Theparat Road to Sriracha District, and head to Ko Loi Pier. Then, use a passenger boat to cross the shore. The journey time on the boat will be approximately 45 minutes.
Are you looking for a luxury home or a comfortable condominium close to nature with attractions just a few hours from your door? Visit The Forestias, a large mixed-use project in the Bangna area. Take a VR tour on our website, or make an appointment to visit in person via our website or by calling 1265.